How I Passed the Microsoft Azure Fundamentals Certification in 5 Days
3hrs x 5days = Microsoft Certified. It's easier than you think; here's my detailed plan, so you can too.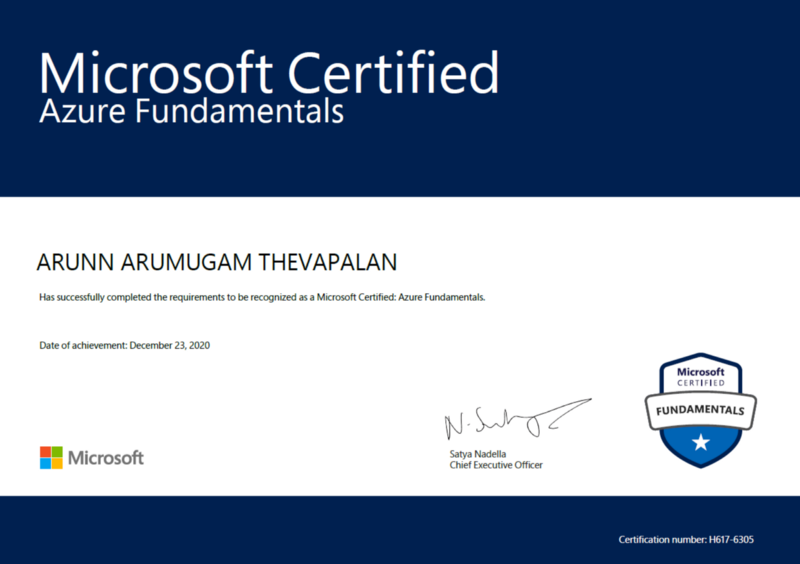 For the past 5 days, I've been preparing for an exam called Microsoft Azure Fundamentals AZ900. I sat for it today, and it turns out I passed. Yes, today. I'm writing this guide right after the exam, fresh, and it's the most up to date as it can get.
For the record, Microsoft Azure Fundamentals is one of the most common and entry-level certifications for most of Mircorost's Azure Certifications. Wait, but what is Azure? I hear you ask. That's what this article is about. I'll be going through Azure to everything you would need to pass this exam successfully and acquire skills to showcase yourself in the industry. I've outlined answers to common questions I had when I started.
Give yourself 5 days after reading this, and you'll have your name on the certificate too. If you're not ready just yet, you might want to save this article for later and return to it.
Let's get started with the questions.
---
What is Microsoft Azure?
To understand Azure, first, we need to understand Cloud Computing.
Cloud Computing is nothing but the delivery of computing services over the internet, otherwise known as the cloud. These services include servers, storage, databases, networking, software, analytics, and intelligence.
Cloud Computing is the delivery of computing services over the internet.
There are different cloud service providers, such as Google, Amazon, and Microsoft. While Google has Google Cloud Platform (GCP), and Amazon's got Amazon Web Services (AWS), Microsoft's cloud offering is called Azure.
According to Microsoft, Azure is a continually expanding set of cloud services that help your organization meet your current and future business challenges. Emphasis on the continually expanding part. In the few years I've been in the industry, I've seen rapid development, and it gets easier for us, the data scientists.
I don't want to overwhelm you, but you may have a sneak peek of Azure's offering as of now. I haven't used many of them, so don't worry about the details, we'll slowly get to them.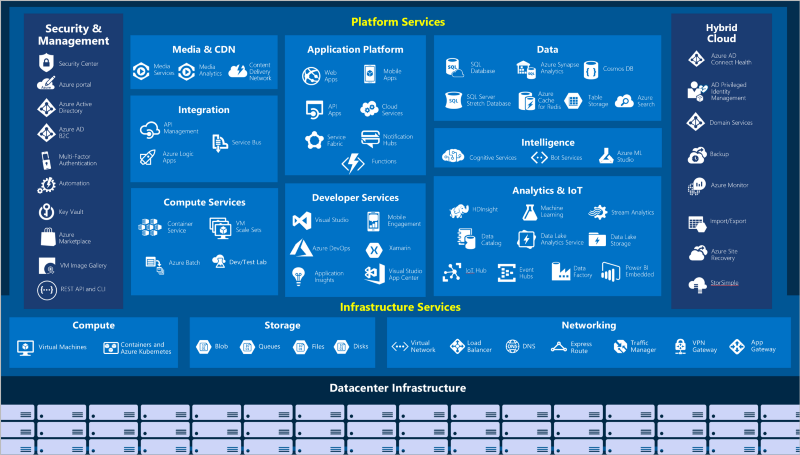 ---
Why would you want to get Microsoft Azure Certified?
The first reason — I recently moved into a new job, and the team uses Microsoft stack for everything. And since we work with data at scale, everything we do is in the cloud, i.e., Azure. Hence to me, it made sense to dive deeper and understand Azure once and for all. Most companies are moving into the cloud, and it would be useful for you to understand these concepts.
The second reason was just, why not. I prioritize the ability to get the work done over any form certificate. But it took me only 15hrs of preparation, spread across 5 days, and didn't cost me a penny (I'll tell you how to, in a while), so why not!
If you're not sold with my reasons, Microsoft provides some researched statistics too.
91% of certified IT professionals say certification gives them more professional credibility.
52% of certified IT professionals say their expertise is more sought after within their organization.
93% of decision-makers agree that certified employees provide added value.
So if you want to understand cloud better, want to showcase value to your (prospective) employer, and got a few hours to spare, why don't you get certified too? Especially since you've already gotten hold of my guide. ;)
---
Microsoft Azure Fundamentals (AZ-900): Everything you need to know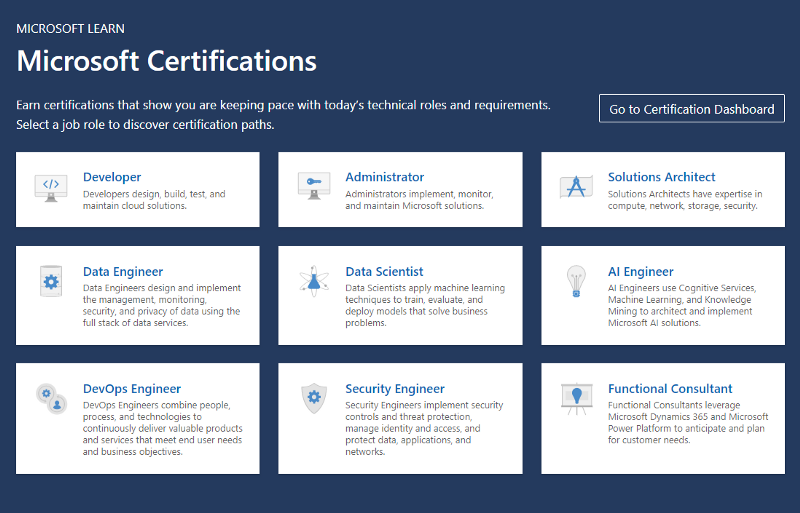 As you can see, Microsoft offers role-based certifications that let you establish yourself as a professional in a particular role. Since I'm a data scientist, I'll look into the Data Scientist certification profile; similarly, one could look into the profile that best suits their role.
But here's the thing: irrelevant of any certification you pick, Microsoft Azure Fundamentals AZ-900 has been listed as the starting point. This is an optional start for those new to Azure and covers all the basics, which helps all role-based certifications later.
This makes AZ-900 the most common certification, especially amongst beginners.
Note: The examination content gets updated constantly, and all external courses, resources you would find will no more be relevant. The most recent update happened in November 2020, a month before writing this in December 2020.
The Skills Measured
According to the most updated exam, there are specifically 6 skills being measured for the examination with an approximate weighting (very important).
Describe cloud concepts (20–25%)
Describe core Azure services (15–20%)
Describe core solutions and management tools on Azure (10–15%)
Describe general security and network security features (10–15%)
Describe identity, governance, privacy, and compliance features (20–25%)
Describe Azure cost management and Service Level Agreements (10–25%)
These skills measured can be loosely considered the syllabus for the examination, and the examination question more or less followed the weightings as indicated. A thorough understanding of cloud concepts, solutions from Azure, when to use what, their commitment to privacy and compliance to policies, and the costs involved take up more than 90% of the overall content.
Now that you know all particulars regarding the exam let's get to the most important question of them all.
---
How much does the exam cost?
Microsoft has used location-based pricing, which means depending on your location, the cost can vary from $55 to $120 (in USD). You may check the costs associated with your location.
However, I did it free of cost, and you can too.
Microsoft organizes the Azure Training Day multiple times a year (more on this later), and if you attend one of them, they waive the examination fee. You need to use the same email you used to attend the event, and voila, you get your examination cost to big fat zero!
Now that you know everything about Azure Fundamentals let's get into how you can prepare for it?
---
How did I prepare for the exam?
I primarily used 2 resources.
I highly recommend you to stick with the same too. The mock tests and external paid courses are absolutely unnecessary. Trust me; it's easier than you think.
The Plan
Day 1: Azure Training Webinar Day 1 [3hrs]
Day 2: Azure Training Webinar Day 2 [3hrs]
Day 3: Azure Fundamentals Learning Path — Part 1,2,3 [3hrs]
Day 4: Azure Fundamentals Learning Path — Part 4,5,6 [3hrs]
Day 5: Review of my short notes [1hr] + Examination [2hrs]
As you would notice, I used only these 2 resources and booked my examination on Day 3. The plan is simple as it can get; let's quickly go over the resources.
Microsoft Azure Virtual Training Day
This is typically a 2-day webinar held by the Azure Training team to help more professionals get familiar with the Azure cloud platform. You can check for the next scheduled event from this link. They have these multiple times a year.
In my opinion, these are the best way to get started. Everything you need would be explained clearly by the trainers, and you get to ask questions to them and clarify any doubts you may have.
Think of it as a crash course into the content to have a good overview of what you will be tested upon. If not for these, I wouldn't have even attempted the exam. They talk about what's tested on the examinations and were helpful to kickstart my preparation.
Azure Fundamentals Learning Path
If the webinar were the crash course, the learning path would be the in-depth text tutorial. Yes, I said text! I personally like text materials because they let me skim through and take notes easily at my own pace.
I spent the next 2 days going through the learning path, solidifying all the concepts I listened to on the training day.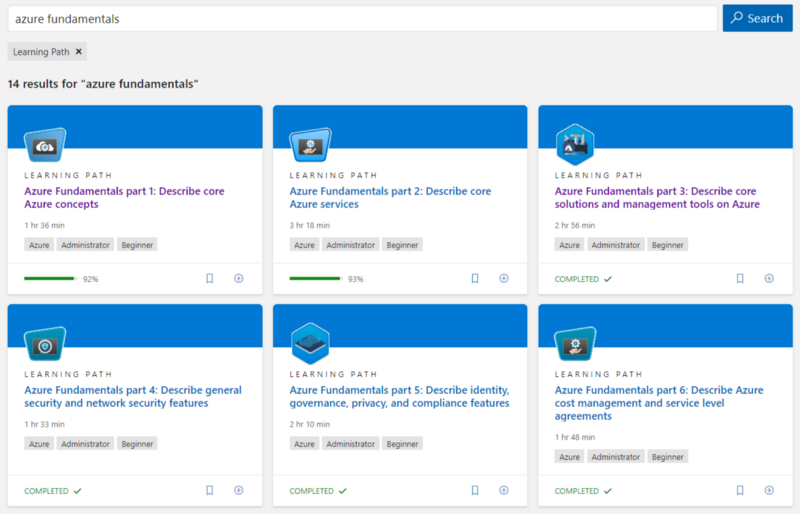 There are questions to check your understanding at the end of each learning path, and by logging into your Microsoft account, you may save your progress (like I did above).
If you went through both the above resources, you will naturally feel comfortable about the exam and don't have to waste money on any mock tests or additional courses.
Bonus Tip: Though practical experience is not required for this examination, knowing Azure Portal and the interface was helpful for me. So if you're not familiar with the Azure Portal, feel free to create a free trial account and play around familiarizing yourself with the icons and the overall offerings of Azure.
---
What should you expect during the exam?
The last day I essentially spent familiarizing myself with the exam environment. The exam duration was roughly about 2 hrs and was broken down into several sessions in this order,
30 mins: Pre-exam setup, ID proof, surrounding check
15 mins: Short survey and understanding exam particulars
60 mins: Actual examination
15 mins: Feedback on questions and survey
The time remaining from each session cannot be carried forward, and in the end, you would only be evaluated in the 60mins of the actual examination.
Since I opted for the online proctored exam, I had to ensure that the system and other requirements are met. Please run the setup and check if it works well on your laptop. The exam cannot be taken from a Ubuntu machine, and it doesn't work with corporate network/firewall settings. So, in the end, I had to borrow my sister's personal laptop for the exam, so please be aware of such limitations.
We would need government-approved ID proof (Passport, Driving License, etc.) to match the certification profile name. In addition to that, we need to click photos of ourselves and the exam environment for verification. A real person would be on the other side, proctoring the exam, so you can always reach out if you need something.
As for the exam contents, I don't want to spoil you with exact questions, but my whole intention of this guide is to encourage and support you to learn and acquire the skills and do well in the exam. Trust me; if you go through the resources I've listed above, you'll be well and good.
You would be required to answer somewhere between 40–50 objective questions. The time was more than sufficient, so feel free to mark questions to review later on in your second round.
As you finish the exam, you would be prompted with the result instantly. "Congratulations, you have successfully passed the exam!" was the greeting on screen. I truly wish you receive the same!
And within an hour, the certificate (signed by Satya Nadella, oh yeah!) was waiting in my certification profile.
---
What's next?
I'm a data scientist, not a cloud developer. I use the cloud to run my machine learning pipelines and deliver insights at scale. This certification gave me a better understanding of the Azure platform, and I know which offerings to use when. As data scientists, we need to be familiar with the cloud and scale our work with the ever-growing data.
I have my eye on the Azure Data Scientist Certification too, so maybe you would hear about my experience somewhere in the next year. I believe this guide was comprehensive, and I answered most of your questions, but if you've got more questions, please leave a comment here. I'll definitely answer, and it would be best helpful to everyone else too.
---
For more helpful insights on breaking into data science, honest experiences, and learnings, consider joining my private list of email friends.